---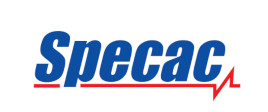 ---

---
Heated Platens | Electrically Powered
---
Controlled temperature to 300°C with water cooling 15 Ton load bearing capacity 100mm diameter pressing surface Compatible with all Specac Atlas Hydraulic Presses CE Safety approved
Provides pressing surface up to 300ºC
Specac's Atlas Heated Platens have been designed for use with all Specac Atlas-series Hydraulic Presses to provide heated pressing surface up to 300ºC temperature, with a load bearing capacity up to 15 tons. Easily installed into Specac presses by replacing the upper pressing face bolster fixing with the top heated surface and placing the lower over the lower pressing face of the press.
Digital temperature control provides ±1°C stability
A digital automatic temperature controller with a stability of ±1°C is provided and the lower side is fitted with a permanent thermocouple that monitors the temperature close to the pressing surface. The support blocks that connect to the press are water cooled to isolate the press from any direct heating effect and to allow for efficient heating and cooling cycles of operation.
An inline flow safety cut out device is incorporated into the water flow tubing to switch off power to the platens if the water supply is cut or interrupted. PVC tubing and flow connectors are supplied for water cooling.
Suitable for film-making
The heated platens and press products are also designed to be used with Specac's Constant Thickness Film Maker accessory for the preparation of thin films of polymers and plastic materials at a diameter of 29mm. However, the platens can be used alone in a press, without the Film-Maker, if larger diameter films are required for pressing.
This product has full CE safety approval.
Bu Kategorideki Diğer Ürünler